Bringing the bars to your basement
It's every man's wish to one day have an area that he can call his own, give him some time away from the wife and kids, time to sit back, relax, maybe watch some sports and drink some brew.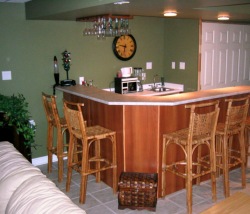 Where to begin?
It's always important to have an idea of scale before you begin your project, are you aiming for a small bar with a few drinks on offer in your basement for personal use or are you looking to go the whole hog and have a bonefide bar in your basement suitable for hosting parties. Make sure your expectations are realistic, picture your perfect end result and make sure to keep that in mind whilst you go through the following sections.
Bar Surface
This is a big decision for you right off the bat and one that will likely shape the personality of your basement bar, the most popular option is the classic wood look. Whether it be imported English Oak or treated pine from your local home supplies store, the dark wood bar will give an authentic, distinguished, professional look to your room, careful though as it can make or break the whole vibe that you're trying to convey. An excellent resource for both looking at different bar designs and for giving yourself some personalized ideas is the Wallace & Hinz site. Other, less popular bar surfaces include tile, granite and stone. In recent years chrome and steel finishes have also become popular surfaces amongst younger, trendier bars.
Finally when considering the bar surface alway make allowances for a draught fountain, a sink or any other appliances that may take up space in your bar area.
Seating Area
There's lots of things to consider when choosing the seating arrangements for your bar. First and foremost you need to know the exact height and color of your bar as this will obviously effect the color and height that your stools should be, speaking of stools, will they have back rests or not? Will the have the ability to swivel? Footrests? Also you may wish to consider the length of your bar in order to ascertain how many of these stools you'll need and how large a gap you will have between each.
Storage
I know, this maybe isn't the most exciting aspect of planning your bar (don't worry, that will come next) but it may be the most important. Once more it brings up the question of whether or not you intend to have beer taps for draught. If thats a little too much for you then you may wish to look into buying a mini fridge-freezer that can fit nicely behind your bar and keep your ales and soft drinks chilled. Your may also want to invest in a mini-dishwasher that will ensure that you're never that guy who serves his beer in dirty pint glasses. If you do want to shot for draft taps that does complicate things somewhat, for starters you'll need an area to store the kegs. This area should be between 11ºc-13ºc. Next you may want to consider underbar cooling, as this is likely a bar to be used by small amounts of people, a shelf cooler should suffice.
Furnishings / Themes
Ah, now this is where the fun really begins, decisions your make here will shape your bar/pub and effect how others will view it in the great scheme of things. Popular choices include the Sports bar's multiple televisions, the American style bar featuring plenty of neon lights, the British pub with lots of dark oak, a dartboard and a snooker table, or the Irish look, similar to that of the British pub with the dark wood but with an array of Guinness signs. Those are the most popular but there are many others that you can choose from, a sophisticated wine bar or cocktail bar, or perhaps to steer away from the alcohol driven themes, a coffee bar may be more to your taste. No doubt you already have a look and style in mind as your read this but a good piece of advice would be to always keep an open mind to new ideas, you might find inspiration for your bar at the most unexpected moments.
Important Links
- How to install ceramic tile as a bar countertop
- More insight into creating a wet bar area in your basement
- Beer Advocate, a site dedicated to the art of beer making and appreciation