Heating Your Basement with Heated Floors:
Transform your basement in a warm, comfortable space for your family
Your contractor can layout a thin electric mat over the subfloor, cover it with a layer of thinset before installing the final floor covering. The system is controlled by a programmable thermostat that will keep the floor at a comfortable 80 or 85 degrees.
How is it going to help?
"About 38 percent of homes have mold and fungus growth due to elevated moisture." (The American Society of Home Inspectors). Molds grow indoors on virtually any substance when moisture is present.
Basements or concrete slabs are the largest sources of moisture: Pores in concrete do not only let in moisture, but they actively draw it inside by capillary action. The average basement lets in 18 gallons of moisture each day, several times more than bathrooms and kitchen combined!
Molds and dust mites aggravate or cause allergies and asthma, particularly, in children. The incidence of allergies and asthma has doubled in the last decade, which has been linked to the increase in air-borne molds in modern energy-efficient homes.
Your basement is not the healthiest room in the house so you need to be careful and actually do something about it when you start your new basement remodeling project.
The only effective way to control biological air contaminants like molds, fungi, dust mites, and bacteria is to control the cause. Your goal: eliminate the sources of moisture and reduce humidity in your basement!
That's when electric floor warming comes into play: the drying effects of floor heat will help reduce the humidity coming from the slab, which is the largest source of moisture.
European research performed in 21 households shows a 50% to 80% reduction in domestic dust mite populations in the households with radiant floor heating, thereby improving the quality of life (particularly for allergy sufferers). Whether you install carpet, tile or any kind of floor, electric floor warming is fairly easy to install.
Find out more about the study: Evidence of floor heating systems in controlling house-dust mites and moulds in basements
"Millions of dust mites live in mattresses, pillows, carpets and, well, dust. These irritating creatures hunker down deep in carpets and ordinarily are not much bothered by vacuum cleaners. The warmth of radiant floors, however, drives the cold-blooded little guys to the top of the carpet where they can be sucked right up. Also, dust mites need moisture and humidity. The drying effects of radiant floor heating make it difficult for them to get it." - Bill Clinton
Find out more...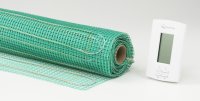 Visit WarmlyYours.com, industry leaders in electric floor heating systems.
How much does it cost?
Average price per square foot heated: $10. It does get expensive for large basements but is well worth the investment to cover areas up to 200-300 square feet.
Design your own custom floor plan online
When your home was first built, the odds are that there were few if any registers or vents installed in the basement. Your basement is likely cold or not appropriately heated. Electric floor warming can work as the only source of heat. Combined with a forced-air heating system, you will just need to keep the floor warm a few hours a day to add the necessary warmth to your basement. Open Your Ebook: Heidi Winings installs electric floor heating in her basement. (when prompted, click on "Open" to read the ebook)
Available for Windows users only